Tackling a Audio-Video & Networking Project for New York City Apartment Owner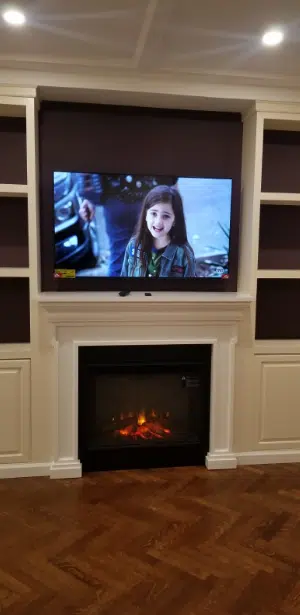 Ultimate Audio-Video Installations – One of our Manhattan clients recently wanted us to install a new cable feed and set up a wireless internet environment and new TV in his apartment. Our first challenge was accessing the hallway service closet that housed the existing cable box and internet router equipment.

The new wiring installation plans included cable snaking new co-ax and CAT 6 cables above the ceiling line and into the apartment's interior service closet.

Once in the apartment by the front entry door, we had to chop through plaster and wire lathe to snake the cables into the apartment's small service closet. Once in the closet, we discovered the electric wall outlet was dead. Our technicians traced the problem to a disconnected wiring set-up in the Kitchen's AC splice box.

Next, we had to chop the ceiling in the entry, Living Room, and certain sections of the interior walls to run the cables, including a special 100′ long HDMI cable, from the tiny interior service closet to the new TV.
Added to the complexity of this apartment installation, the owners just painted the apartment, and the new apartment owners would soon arrive.

Fortunately, the General Contractor (GC) working on the apartment could plaster the holes, paint, and finish installing the new cabinetry.With the GC work completed, we returned with another team to install the cable box, modem, new TV, and a Smart Wall Pad for lighting control.

We strongly encourage homeowners facing complex wiring layouts and potentially dangerous power issues to contact our professional home theater installers. Tip of the day – hiring a professional installer will save you time, stress, safety & money in the long run.

For more residential ideas and examples, please visit:
https://ultisound.com/portfolio/residential/

To inquire about a project that you are working on, please email us at: jack@ultisound.com
Residential & Commercial AV Installations – Smart Home Automation – Structured Wiring – Sound Systems – Home Theaters